April 25th, 2015
Memories
My very first memories include getting a kitten, playing with a stuffed animal with my dad, and finally taking home a red dress I had talked incessantly about after seeing it in a store window. My other first memories, which happened around the same time at ages 3 and 4,...
April 24th, 2015
Never Forgotten
I was 16 I had just left school ready to start college i met up with friend Emma in Guildford town for shopping where she saw some guy friends of hers. I didn't know them and never met them. We went to the castle it was a nice day we...
April 23rd, 2015
My Boyfriend Raped Me
This all began when I met a guy at the age of 15. I met him through friends and all was great. He was so nice, attractive, wealthy, he really put on a good show for the first month. I was a virgin when we got together (obviously.) We had...
April 22nd, 2015
One Bruise Too Many
After going through so many things with my mom and being bullied as a young girl I felt that my best friend of many years would be there for me after seeing me crying and hurt most of the time especially being that we were both at a new school...
April 21st, 2015
Someone Left To Trust?
I'm just upset! I was just walking to my friends house and then he came by – Connor. He was addicted to me anyway. Before, he used to kiss me intensely and convince me to date him but I said no – all the time. He even got me to...
April 21st, 2015
Flashbacks
I just don't know how to start. It feels weird and I am ashamed, I feel dirty and I don't have any self-esteem left. I am having a great boyfriend. We both are having a strong relationship and we are dating since five years and a half, I met him...
April 20th, 2015
13 & Alone
I was 13 years old I was best friends with this person that I knew for 5/6 years. I was going through a lot then I started liking him a lot to the point I thought I was in love and in fact I still love him till this day....
April 20th, 2015
Catching Up With Me
I was twelve years old when I vividly recall my grandfather walking towards me and for the first time placing his hands on me. I was stunned and paralyzed. Each time that we would visit him (or have a sleepover) and when we were alone he would touch me, kiss...
April 18th, 2015
Stranger Rape
Hi, I'm Nye-Emah and it was kinda weird how it happened 5 months ago. It was my birthday i turned 12. So. I went to my BFF. We was going to hang at the park. While we were there were strange men was there too. So we payed no attention...
April 18th, 2015
Never Going To Happen To Me
After a year of constant abuse and rapes I couldn't get out of bed no matter how much I wanted to leave. I had no job, no car, 6 pets, no money, no food and no home. Leaving seemed to be a luxury, not an option at the time. It...
I was 3 or 4 at the time. This boy was about fifth grade age. He would unzip my pants and point with his friend. I was at daycare and only my mom and dad know. I am ten and just recently told my parents. Nothing is worse than this....
April 17th, 2015
Christmas Horror
On Christmas Eve 2005, my daughter's father and I walked to a store to finish our last minute Christmas shopping then going to get our 1year old(our only child at the time) something to eat. While he was at the counter about to pay for the items, store was New...
April 16th, 2015
Wanted Love But Got Rape
Everyone thought that I was going through a bad breakup. And for a long time, I made myself believe it too. It was like losing a piece of my voice, my life, my skin, my heart, my soul. My mind became a place of torment that I could never escape....
When I was 15, my boyfriend asked me if we could have sex or any sexual contact, I said no I wasn't ready. We had been dating for 2 months. 2 nights after he asked me, he took me out to see a movie. We sat in the back and...
April 14th, 2015
My Oldest Friend
The summer before my junior year of high school is something I would never, ever relive. In three months my parents divorced, I broke up with my boyfriend of three years because cheated on me with another guy ( I would later find out he had been doing it for...
April 13th, 2015
A Meek Young Girl
I was 17 at the time and my attacker was 16. We started dating in October. We were dating and everything was going great through our relationship. 2 months into our relationship his friends made fun of him by saying how I wasn't a virgin and he was and that...
April 12th, 2015
Colored Hair and Diamond Tattoo
Where do I begin. This is not my story anymore. It's hers. Or not. It's mine. Twenty years ago I was 13 years old. 13 years but looked like 10 years. I was already in a difficult situation when I met him. My mother had cancer and I was terrified...
April 11th, 2015
My Nightmare
This is me, I'm 17 years old, a girl. I saw Brave Miss World today, and I don't know why, I kind of just got drawn to it. The strange thing is that after what happened to me I haven't exactly had so many feelings in me than anger and...
April 8th, 2015
The Woods Don't Speak
So this happened to me a week ago.This boy I liked seem real nice everything I wanted so my friend got us to gather. I'm 15. He is 16. So he would tell me everyday how pretty I am and how pretty my eyes are and at first I was...
One day I was walking down the street at about 5 P.M., 15 days after my 15th birthday. At the time, I was in Mexico. A man rushed down the street, looked at me frantically, and said, "You're in danger. Please come with me." I followed him and eventually we...
April 8th, 2015
Who is Responsible?
On the night of my 14th birthday I went out with a few friends. We ended up going to a restaurant. The table in front of us was empty for 5 minutes. Next, there's a man with dark hair, glasses, and comfortable clothes on. He sits there and stares straight...
April 7th, 2015
Becoming Whole
I was 3 years old the first time I was molested. The molestation/rape went on for almost 15 years old; involving dozen's of men, dozen's of times, I was prostituted by my grandfather for almost 6 years. I was brutalized and tortured. I was again raped when I was 21...
When I was 10 I acted older then what I was. At this age I got my first boyfriend and he was 17( he didn't care about my age because of my body type ). I wasn't sure if l liked him but he treated me like he loved me....
April 6th, 2015
Confused and Angry
I'm currently enrolled in a Philosophy of Love and Sex class at university and we were discussing sexual assault. The lecture really opened my eyes to something that had happened me earlier in the year and I'm pretty pissed and confused about it now. Friends from my previous university were...
Hello Linor, I just want to say how inspiring I find you and how you have become a symbol of female power and strength. When I think of you, I don't see a victim, I see a lioness who despite being hurt, doesn't back down, doesn't accept defeat and whose...
April 4th, 2015
The Worst Feeling
Hello, I am 27 years old, came across this story on Netflix. I was abused as a chid. At 5 years old is were it all began. I was abused by my cousin, he was about 22 years old in that time. My mom would drop me off to my...
April 3rd, 2015
5th Grade
I was in 5th grade the first time I was raped. I know the name of this man, but I prefer to not say. Let's call him Number6 and his friend Number5. After school, one day we got on the bus because I had to go to the Middle School...
April 3rd, 2015
Uncomfortable
I don't want to sound weak but this really scared and I wouldn't classify it as rape, but I want to talk it out. I love this game online but also has a chatting room which you think would be good but it wasn't. Some boys started targeting me with...
April 2nd, 2015
Rape, Sexual Abuse
When I was three or four years old, I was raped by a man whom I've never met in my life. He was not a family friend, and I shouldn't have been in the place where it happened to begin with. I'm 16 years old now and I live with...
April 1st, 2015
The Story Of Two Rapes
This is a very long story but I feel this is the only way I can tell it. I am a survivor of not one but two rapes. I will start by saying I've never written down my stories and I've only told my two closes friends and my family...
March 31st, 2015
Raped by Him
It was a traumatic time for me and it even makes my guts clench and bile run up my throat each and every time such a dark memory evades my mind. The fact that he got away with it because of his status and how rich and connected him and...
When I was 14 (1 year ago) me and my friends had agreed to go to a party on a Friday night. About a week before the party someone mad an Instagram account and started saying mean things to us like "I'm gonna rape you" and "go die" then the...
When I was about 10 years old I remember I was dropped at my aunt and step uncles house by my parents. I remember playing just being a child and playing with my younger cousins. I will never forget the time they called me in the room and asked me...
My story begins from when I was a little girl. An innocent child at the hands of a cruel father. My father and mother got a divorce because he abused her in ways you couldn't imagine. This all started when I was visiting him when I was about four years...
March 25th, 2015
Lying Child Molester
When I was 14 I had met a guy who told me he was 18. Even though I told him I didn't want to date he kept persisting and eventually we did have sex. Soon after our consensual sex I had received a phone call from his 17 year old...
March 24th, 2015
Bus Ride Of Missing Hope
When Ii finally told someone, no one believed me. He was the good kid in class. They said he not like that. It was after school in 5th grade we had a sub bus driver because ours just had surgery. I was sitting in my set when I felt someone...
March 24th, 2015
75 Percent Humidity
You never want to be the person who admits to being raped twice, but I'm that woman. It was at college and I was a virgin. The assailant's family had a lot of money and were well connected. He was never prosecuted. The second time, I blamed myself because who...
March 23rd, 2015
Tree House
It started when i was 9. My brother was always mean to me, I'm guessing he learned a lot of it from my abusive father. He physically abused my brother and I when we were younger so I sometimes believe this all happened because he was trying to cope? Anyways,...
March 22nd, 2015
Molested, Tortured, Rape, Survivor
As a young girl, I was molested by my mother's boyfriend son. I thought it was okay to let a little boy play down there, but then later on in life it was not. At the age of 16, I was walking home and saw these guys walking up behind...
March 18th, 2015
Playing House
My name is Sydney. I'm 13 years old. When I was 7, my mom was on drugs, and I knew she was using. We used to go to this lady's house, and she and my mom would go to a room and smoke and sniff…etc. One day, I was downstairs...
March 18th, 2015
The Stepmonster
I was only eight when it originally started. My stepdad would touch me in my crotch and chest area. He would only do it with my mom at work. He would even do it in front of my little sister, but he never did it in front of his son....
March 17th, 2015
Sleep Over
We had lived in a small subdivision at the time and everyone knew each other , and we always did stuff. I was 8 at the time and I had gone to stay the night at one of my friends house, but we'd gotten into a childish fight. I left...
March 17th, 2015
I Thought He Cared
It all started in 7th grade. I was some what popular spoke my mind about things I tho was wrong even tried to break up a fight once. My boldness is what caught his attention. We started out as friends laughing about almost everything but I soon became interested in...
March 16th, 2015
It Was My Mom
Most people don't believe it because I'm a boy but it's real and it hurts me. When I was 13, I got my first girlfriend. I really liked her and I introduced her to my mom. My mom acted really weird around her like she didn't like her but I...
March 14th, 2015
Broken Trust
I had a friend who I quickly became very close with. I was very depressed at the time and he was too so I spent all my time with him and went to his house everyday. However, when I started falling asleep there, he would touch me and I would...
March 13th, 2015
Raped By My Brother's Friend
I was 11 at the time. I went over to swim with some friends at my neighbor's house. He was always touching me in places that he should not have. That day it started raining, my friends and I were going to leave because of the rain, but he didn't...
March 12th, 2015
I Want to Be Brave
Linor, I have just finished watching your film and am simultaneously in a state of awe & inspiration as well as complete and utter hurt & pain. I ache for the pain of your story, the stories of those you helped speak out, and my own story. I was molested...
March 11th, 2015
This Is My Story
When I was born my mom said when she first held me she didn't want me that there was something about me she didn't like. She named me after her and gave me to my dad to do what he wanted with me. I was raped by him from birth...
March 10th, 2015
I Thought It Was Normal
As a child I was sexually abused by my Granddad, I thought it started when I was around 8 but I have since put lots of different pieces together and realized it had been happening since I was about 4 until I was 12. I knew I didn't like what...
March 9th, 2015
My Best Friend
He was one of my closest friends and when it happened I was 17 years old and he was 18. I trusted him so much and even my family liked him around, because he became like family. We'd always go on my trampoline and talk for hours. Sometimes I let...
March 8th, 2015
His Masterpiece
When I was 15 I became very close to my uncle because I felt he was the only one who understood me. I loved him so much. We were best friends and never in a million years did I ever think of him in any other way other than my...
March 8th, 2015
He Stole Something From Me
In January 2004 I went with my class and other classes of my former school to France for a school trip. We went by bus. It was an ten hour over night drive from Holland without sleep. When we arrived we where all divided by four to share apartments. Later...
March 5th, 2015
Breaking the Silence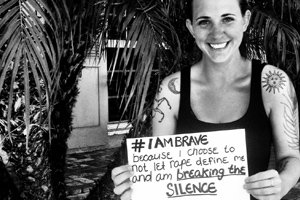 Click to view and comment
March 5th, 2015
I Trusted Him
I was 23 when it happened. I was seeing and older man and had been for 7 months. We broke up but remained very good friends, he was my confidant, I thought of him as an older, wiser person I could confide in and seek advice from. At the time...
March 5th, 2015
The Touches I Felt
Being that I'm much older now I realize all the things that I went through in the past we're wrong. When I was a child between ages of 5-7 (maybe even before) I was being molested by my older brother who was 4 years older than me. I remember when...
March 4th, 2015
Raped By 6 Policemen
Thirty years ago this March, my entire world was completely shattered after being befriended by a Snr Constable of the N.S.W Police Force & he invited me to his unit to watch a VHS Video of the 1984 Movie "Police Academy". He knew I was an absolute movie nutter. He...
March 4th, 2015
He Took My Virginity
It is really hard for me to write this but I feel empowered by this website and All the stories I have read here. It took me a while to realize what happened but I think I was raped when I was 17. I met Jon and he was a...
After seven years and two children together, I broke up with my boyfriend. I had never really loved him and felt that I had stayed with him because I was weak and on some level I knew that getting away wouldn't be easy. He harassed me and stalked me after...
March 3rd, 2015
I Didn't Even Know
I was 12 when that hideous man put his filthy hands on me. It's been 8 years almost and everyday I suddenly remember what had happened…his name, his face, his voice rings in my ears. He was a relative of my friend. We used to go to his house cause...
March 2nd, 2015
School Prom
n the beginning of December last year, I was at my first school prom ever. I was so excited, and had spent the whole day with my mom, looking for the perfect dress. I'd spent hours and hours in front of the mirror, putting on my makeup and fixing my...
March 1st, 2015
He Was My Dad
I have 17 years old and I was raped by my dad, this happen just a few months ago before new year. Please forgive me if my English is bad I am from Costa Rica that means that I speak Spanish so this is my story. He is not my...
February 28th, 2015
Girls Without Parents
When I was 6, I was adopted after my biological parents passed away. Two other girls were also adopted into the same family. Between ages 8 and 14, the "adoptive parents" sent me every Sunday to my "uncle," a family friend only, not a real uncle. Classic story, making me...
February 28th, 2015
Some Friend
June 24, 1993. I was 19 on this day. I had just completed my first year in the US Army. I was stationed in Alaska. My unit had been in the field for a month. I was actually the youngest person in the battalion and so was always called the...
February 25th, 2015
Respect
First of all, I'm sorry if my English isn't fluent, I'm Dutch. I have never been raped or anything that comes close to that. I just watched Brave Miss World this afternoon and it really touched me and I just felt like I had to show my respect to all...
February 25th, 2015
Drugged and Gang Raped
The guy I met, I thought was a nice guy. Very undercover, nice, seemed genuine. I met him, he was walking a baby Pitbull. I have a passion for these dogs, rescued some, and have one myself. I invited him to come to visit me, as I had not been...
February 24th, 2015
My Best Friend
I am sorry if my English isn't that good. I am from Belgium and English isn't my "main" language… I was 11 when I made the most horrible experience in my life. I had some friends, not a lot, I was very leery and I chose my friends very carefully....
February 23rd, 2015
Assault at 12 Years by Teacher
In the fall of 2014, news came to me of a young girl raped by the same man who sexual assaulted me as a child. I felt like I was in a movie. This news brought me to my knees, comfirming what had happen to me 38 yeàrs ago. Back...
February 23rd, 2015
Me & My Girlfriend
I am opening up about my assault and my girlfriend was raped. We have been together for 3 years, and she is not just my everything, she is my soul saver. I was assaulted last year, and she was raped three times. Well, what happened to me was the summertime,...
February 19th, 2015
The Setup
Growing up I was always a good church girl. Never cursed,n ever had sex, never did a lot of things. Until I turned 16, and began experimenting with opiates. I became an addict. To this day, my mouth still waters when thinking about a day in bed with a nice...
February 19th, 2015
slutshamedchild
I will start off by saying that at ten I was raped by my neighbor in the middle of the night when I was sleeping his his daughters bedroom on the floor. I normally spent the weekends at his house playing with his daughter. She had her cousin sleep over...
February 18th, 2015
Survivor of Rape
After my rape, I tried to pretend like everything was okay and stuffed the pain away somewhere deep inside. I finally wrote my story almost a year ago to a friend of mine. At the time I thought I was strong and "over things", but the truth was, I wasn't....
February 18th, 2015
Raped at Camp
I was 9 years old at a campground my whole family went to every year, literally since I was a baby. The two teenage boys that raped me were neighbors from the adjacent campsite. They were sons of a minister. It happened when I was walking enjoying the woods. The...
February 18th, 2015
What Can I Do
At the age of 11, I got my first boyfriend. He was a 16 year old boy that went to a near by high-school, and I had my eye on him for awhile. We were together for about 6 months and he always wanted to do more but I never...
February 17th, 2015
Secrets
First of all, I want to thank Linor. Thank you for sharing your story. I have watched it about 5 times by now. Every time I have a hard time, I watch this so I don't have to feel so alone. I am 22 years old now and I was...
February 16th, 2015
Mother and Son
When I was 13, I was able to have my own room without my brother, but looking back at it now I wish we had the same room. Almost every other night my mom would come into my room when I was sleeping and rape me. Most people say "It's...
February 16th, 2015
Sleepraping
6 years have passed and I think about this everyday. Everyday. An inner tug of war turning the events over in my head. My boyfriend is an 'upstanding citizen', joined the army for the forces of good and would walk old ladies across the road. He started by the end...
February 15th, 2015
He Laughed
Every year me and my friends have a pre-Christmas celebration together instead of buying each other presents. 2 years ago we decided to have Christmas dinner & drinks a few days before Christmas, I was 20. It was a really good night, we all brought different food, drink and games...
February 15th, 2015
Sex Slave
It all began when they became my best friends. I was the only girl in a very small neighborhood in the country. There was no business within miles. A mile long dirt road curving through a hill by a river. I was 9 years old when it began. The leader...
February 13th, 2015
Abuse of Men and By My Mother
My name is Michelle and I have lived a life that I wished was only a movie. The first memory I have is when I was 5,and my mother's boyfriend was sexually abusing me. My mother sat me in the living and put on a talk show, the topic was...
February 12th, 2015
The Man in Uniform
My mom once told me is that the good thing about youth is that you are unafraid to try things. And in this story I was definitely unafraid to try something, or rather someone, new. I was doing my usual work outs at the military gym; a man had suddenly...